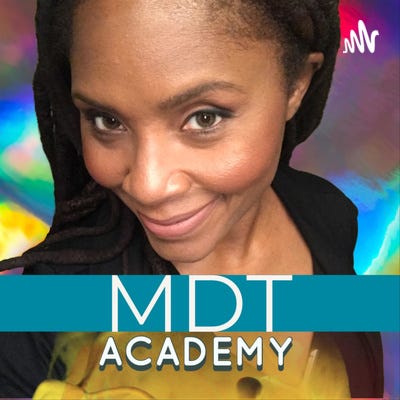 Feb 20 • 1HR 15M
Empaths and the Mother Wound
Root Chakra: Acknowledge Suit
https://linktr.ee/MamaDramaTrauma MDT Academy is a short cut course for empaths to heal Mama Drama Trauma, a condition in which the mother projects unhealed aspects of herself onto her mother causing emotional and/or physical trauma. Our mantra is: "I AM a dearly loved divine child of the Great Mother Father God who is never judged, condemned or left alone," who has the birthright to be healthy, happy and whole. If you have MDT, it is likely your mother has MDT and as soulmates you are co-evolving in self love and spiritual independence.
Do you feel like an empath?
You're not alone. There are over 20 million people in the United States who identify as being empaths, or those with the unique ability to sense and absorb others' emotions, typically making us extremely caring, compassionate, and understanding people. People differ fundamentally in how we perceive and process environment features with some being generally more and some being generally less sensitive.
One of the most fundamental traits found in humans and many species, are those more affected by what they experience than others.
According to sensory susceptibility researchers, Jay Belsky and Michael Pluis, "differential susceptibility," refers to individual differences in how we respond to the environment we are exposed.
High sensitivity is seen in 20% who are more sensitive, or have greater susceptibility to sensitivity to experiences than others and thirty percent of HSPs are extroverts, meaning HSP and introversion are not mutually exclusive.
Empaths are highly sensitive people but not all highly sensitive people (HSN) are empaths. One percent of twenty percent of highly sensitive people are empaths.
Empaths with MDT have dysregulated reactions to maternal abandonment and, or abuse which we internalize as not to cause harm to others causing us mental, emotional and physical stress. Left unaddressed, over time, depression, rage, autoimmune, reproductive and digestive disorders require continuous attention and care. Acknowledging our pain gives us permission to redirect the care and consideration we would give to others before ourselves to ourselves first.
The mother wound is defined as, "pain, wounding, and trauma that's carried by a mother and inherited by her children. Most people have experienced this definition if maternal wounding. However, empaths get a double dose through inheritance and absorption of our mothers unmet maternal needs which we abbreviate ourselves to accomodate from conception.
But there is hope! Mama Drama Trauma (MDT) Academy helps empaths learn how to be present, provide for and protect ourselves from damaging defense and coping mechanisms so we   be more emotionally balanced and live with less anxiety.
Join the book launch team for the book version of the Mama Drama Trauma Healing Oracle Deck. In exchange for your review of the book, you will receive weekly empath grounding techniques to:
release excess energy or emotions

take hold of your body mind

stop someone other's moods from affecting your own
Subscribe to empower my one person publishing house, and we will all be less drained and feel more divine!
You can pre-order your copy here (includes pre-print review copy --so you can mark it up and just snap me a screenshot on IG or FB, or gift your copy and pay it forward!) Let's spread the word about our unique experience with Mama Drama Trauma.
Mama Drama Trauma (MDT) Academy supports the daily practice of release. Post a question for a reading.